After 2yrs, I finally decided to revisit my blogsite. I miss sharing my thoughts and adventures so hopefully I could squeeze in my schedule to have ample time for writing.
I had a chance to visit Kidzania Manila with my relatives, Tita Cora, Mikhail, Jara and Ashley. It was Ashley's first time to visit Philippines and she came all the way from California to experience Kidzania with us. We all had fun especially the kids who were able to play their chosen roles/jobs and learn at the same time.
Kidzania Manila opened last August 2015  in Bonifacio Global City to offer wide variety of role playing activities for children aged 4-14 years old. They have kid-sized city which allows the kids to experience how adults earn, save and manage their finances in a fun way. This is a good venue for the parents to discover what particular skills/talents do their kids have which they can hone further.
Kidzania provides the kids with over 70 roles where they can act as a doctor, firefighter, pilot, cashier, veterinarian, music artist and more.
They also earn "Kidzos", a mode of payment in Kidzania, for particular activities where the kids will have to render services. Kidzos may be used to try other activities/roles or can be used to buy souvenirs at the Kidzania Department store.
My Top 10 Tips to Fully Enjoy Your Kidzania Experience
Tip #1: Schedule your visit
It is important to book a schedule in advance to secure your slot/s. Ticket prices vary on your preferred schedule as shown below:
Age
Saturday and Sunday
09:00 AM to 02:00 PM
(1st Session)
03:00 PM to 08:00 PM
(2nd Session)
Monday to Friday
09:00 AM to 04:00 PM
Kids
(4 to 14 years old)
Php 1,100.00
Php 900.00
Toddlers
(1 to 3 years old)
Php 600.00
Php 500.00
Adults
(15 years old and above)
Php 770.00
Php 630.00
Note: Prevailing rates as of July 2016
It is advisable to be at the check-in counter at least 30 minutes before your preferred session so you can start on time. I personally scheduled our session on a weekday (school season) so that there will be lesser number of visitors.
Tip #2: Maximize your time
The rates above are for single entry only. Each activity usually lasts from 15 to 30mins depending on your kid's chosen role. If the selected activity has started, move on to the next/ nearest stop. It's up to the guardians/parents and kids if they still wanted to take a break after trying a number of activities.
In our case, we barely had a break because the kids were excited to go on to the next role and activity. The parents/guardians are usually the most exhausted at the end of the day. 😛
Tip #3: Ride the tour bus
For 1 Kidzos, the Chuckie tour bus will provide a convenient way to have a quick tour of the whole city. They also allow one parent/ guardian to accompany their kids throughout the tour. I strongly advise that this must be 1st on your list in order to help you and your kids to plan the activities throughout the day. In addition, you may visit the Job Information Center where they can assist your kid to determine what particular job suits their interest.
After the tour, each passenger will receive free Chuckie drinks. 🙂
Tip #4: Plan the sequence of activities

Kidzania will provide a map with corresponding legends for easier navigation. It indicates which specific industries will pay Kidzos for the services rendered and which activities will require your kids to pay Kidzos.
Preferably, choose the industries that pay Kidzos so your kid will earn money first for them to spend wisely afterwards.
Tip #5: Try food industries

For visitors on a tight budget, you may want to convince your kids to choose food industries because all the food they prepare can be consumed by them afterwards. In this manner, kids will not only know the value of food preparation but also they get to enjoy and eat the very food they personally prepared. Less expense for snacks and lunch. 🙂
Tip #6: Of course, let your kids choose
For Parents/ Guardians, you are merely there to guide your kids. Let them decide what particular activities/ role are they interested in.
Tip #7: Observe
This is a great opportunity for the parents to discover the talents/skills of their kids. Kidzania experience allows the parents to plan future activities that will nurture their kids' talents/skills.
Tip #8: Keep your kids hydrated

Always keep your kids hydrated since most of the time they are preoccupied with their activities and they tend to forget to drink water.
Tip #9: Remind your kids on the value of wise spending
Upon earning Kidzos, the initial reaction of your kid is to not spend but to earn more. They can open a BPI ATM account with at least 20 Kidzos where they can deposit and withdraw their Kidzos anytime.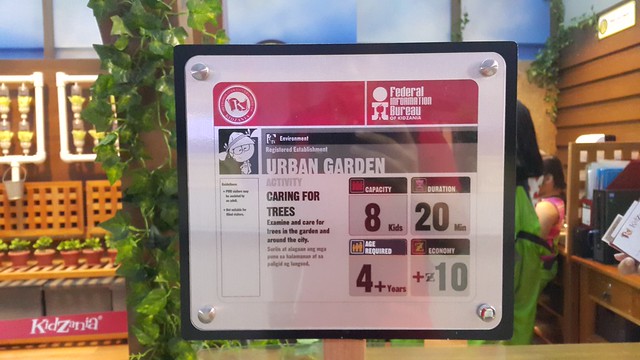 Guide your kids by letting them know that it's ok to spend their hard earned Kidzos wisely on certain activities where they will learn more. Teach them how to spend money within their means.
Some of the kids who entered the department store are more eager to try roles where they can earn Kidzos so that at the end of the day, they'll be able to purchase the item/s they want. This is a best venue for your kids to learn the value of money, savings and wise spending.
Tip #10: Take down notes and remember
The Kidzania experience is beneficial for the whole family. The kid's immersion through various roles is a fun way for them to learn how to be more responsible. On the other hand, it is the parent's obligation to remember what particular activities do their kids mostly enjoyed to have a more proactive approach in planning their kid's future.
Overall, I highly recommend new parents to bring their kid/s in Kidzania Manila. This is a perfect avenue to have fun and learn at the same time for kids and kid at heart. 🙂
For more details about Kidzania Manila, visit their website at http://manila.kidzania.com/en-ph/